CNASF 2018 Lottery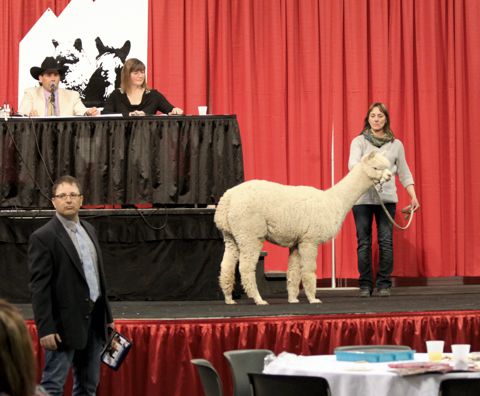 Mission statement "For the Canadian Alpaca Producer to showcase our superior genetics to the world by pooling our resources, marketing as a group to increase the alpaca producers profit – while maintaining the alpacas value".
With this mission statement in mind we want to introduce you to a new idea for the CNASF 2018 held in Red Deer, AB. This coming year we would like to try an Alpaca Lottery with a minimum number of 12 and a maximum of 20 – the Lottery will be open to CLAA registered females and males. The consignment fee will be $300 Canadian dollars, this will cover penning, advertising and other expenses. The Lottery will start at a set time after the Futurity classes end on Saturday April 14, 2018.
We would like to see your intent to put an alpaca in the lottery by Oct 28th. You can begin the lottery registration process with the information you do have. A URL will be emailed to you where you can go back into your same form and update it with your pictures and information you may be missing at this time. We would like your completed form by Nov 18th.
Lottery Registration Form
How the Lottery works
You will consign your alpaca. Each alpaca will be assessed by an unbiased alpaca judge anonymously. Based on the alpacas quality and perceived market interest each alpaca will be assigned to a group value. There will be 3 group values. These values will be set after the assessment and will be based on a number of things including the consignor's expectations, and the current market. The consignor will have the opportunity to turn down the lottery value offer. These 3 values will be a set sale price, no bidding will occur. If you want to put your lottery ticket in for Alpaca # 1 at X amount of dollars you do. If you are the only one to put your ticket in that box, the alpaca is yours for that amount of money. If more than one lottery buyer puts a ticket in Alpaca #1's box, then a ticket is drawn out randomly and the owner of that ticket is the winner of Alpaca #1 for that amount of money.
Each buyer is allowed to enter one ticket only for each alpaca. Absentee lottery tickets will be allowed, we will have someone present who will physically put them in the box for the online or telephone participant. Lottery tickets can also by entered ahead of time if you cannot be present at the event. The lotteries will be pulled at staggered times so if you did not win your first choice you have the opportunity to go back and put your ticket in for a different alpaca. If you ticket is pulled, you must purchase the alpaca.
The CNASF website will be very important in showcasing our alpacas to the world – our marketing team will drive the potential buyers to the website. We also will make printable PDF sheets for each consigned animal which will be accessible from the CNASF website.
Tentative Schedule
Thursday – Consigned alpacas will arrive
Friday, Saturday – viewing, sale parade, lottery tickets available.
4:00pm Saturday, Happy Hour, food and cash bar
5:00pm all number ones get pulled
5:10pm all number twos get pulled
5:20pm all number threes get pulled
And so on until all Lottery boxes are gone
5 Simple Steps to consign an alpaca:
Fill in the consignment form online by November 6, 2017.

We need GOOD pictures of the front of alpaca, the left side, the right side and rear of animal, bite, testicles for males along with a copy of CLAA registration paper submitted online or emailed to us by November 18, 2017.

Vet form filled out by your vet and sent into us, either by email or via the online form; if to confirm pregnancy by Nov 18th, if a general health check only the deadline will be announced at a later date, closer to lottery day as we want the alpacas to have current good health status.

A short video of your alpaca walking to you and away from you that will be used on website - please do not talk - emailed to us by November 18, 2017.

$300 cheque made payable sent to CNASF - mailed to: Kelly Brewster Box 335, Bowden, AB, T0M0K0
If you want more information on this great upcoming event – please contact any of the CNASF Lottery committee – we are here to help and make this a one of a kind event in Canada.
Kevin Sept – 780-918-0375 or
Trudy McCall – 780-872-3338 or
Carol Poole – 306-441-7117 or
Linda Schultz – 250-689-0568 or
Kelly Brewster – 403-597-5965 or
Rick Derksen – 306-280-7950 or
Angie Baloun – 204-242-4094 or
Lori Jones – 647-223-8950 or
Janette Archambault – 514-219-1637 or